A very good percentage of people who read this blog are importers from China who are selling in America.
Starting August 23, 2018, the Trump Administration put additional tariffs on $16 billion worth of products. It escalated to the point that on May 10, 2019, nearly half of all goods that America imports from China were subject to an additional 25% tariffs. On August 1, 2019, the Trump Administration imposed 10% duties on all remaining products not currently subject to additional duties.
Related Podcast: Episode 257 – How to Deal with the Tariffs for Your Ecommerce Business
The List of Products Affected By Trump's Tariffs
Trump's list of items to be tariffed has come in four stages. The first two affected roughly $50 billion of the United States' $500 billion worth of imports from China. The third list, which went into effect on September 24, 2018, affects $200 billion worth of goods. List 4, not yet in place, will encompass all products not currently hit by List 1, List 2, or List 3.
The first two lists have 25% tariffs. The third list started at 10% and escalated to 25% on May 10, 2019. This is in addition to any existing duties your product may have. So for example, if your product has an existing 8% duty, the new rate would be 8% + 25% = 33%. On August 23, 2019, it was announced that duties on all three of these lists would increase from 25% to 30% on October 1, 2019.
Below is a complete list of all the products affected by Trump's tariffs. These are lists of HS Codes. If you are an importer and do not keep accurate records of your HS codes, now is the time to review your previous customs forms and figure out what these codes are for your products.
Exclusions
Thousands of products have been excluded from the list of affected products. You can view an updated list of exclusions on the United States Trade Representative website. Each of the four lists has its own set of excluded products, but we also found a compiled list of all exclusions across all branches from ST&R.
Also notable are the so-called COVID Exclusions, which were extended until September 30, 2021, but most have since expired. This includes mostly medical care and COVID response products.
List 4 (Effective Spring/Summer 2019)
At the time of writing, the latest list is List 4 (see above), which imposes tariffs on the remaining $300 billion worth of goods not previously subjected to additional duties. Implementation started on September 1, 2019, and the latest modification came on January 2020, which reduced the additional duty on certain products from China from 15 to 7.5 percent.

Are You Affected by These Tariffs?
The first two lists largely targeted non-consumer products such as industrial products, medical products, transportation products, etc. In other words, there is a very good chance that the average Amazon seller was not affected by List 1 or List 2 of increased tariffs.
However, nearly every seller has ultimately been impacted as nearly every product imported from China is facing some type of additional duty (unless it is an excluded product).
How to See How Much Your Competitors Are Importing from China
Want to see how much your competitors are importing from China?
Custom import records are public information in the United States and there are multiple tools that allow you to simply search for a company name and see exactly how much these companies are importing from China.
My favorite tool for this is Jungle Scout's Supplier Database tool which costs less than $50 a month (other more expensive options include Import Genius and Panjiva). These tools will neatly summarize all of the information included on a particular company's Bill of Lading information such as product type, quantity, and supplier name/address.
Exclusive Offer! Get 70% Off Today
No coupon code needed. Discount automatically applied.
What Can You Do to Avoid Tariffs?
There are some things that you can do to minimize the impact of any additional tariffs:
Review your products' HS codes immediately and determine if they are affected by List 1, List 2, or List 3
Use the daily $800 de minimis threshold to your advantage
Diligently plan how much stock you hold considering that tariffs may be removed on very short notice if a trade deal is reached
Raise prices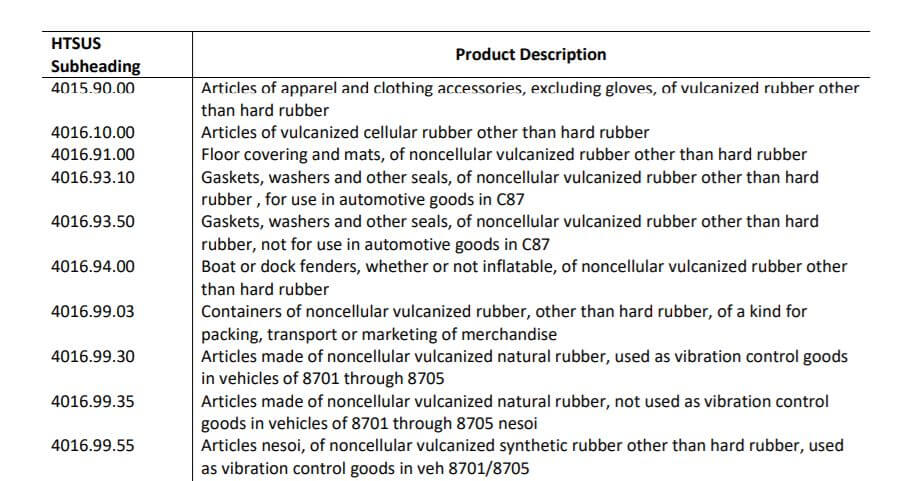 What you shouldn't do:
Deliberately misclassify your goods to avoid lower duties
Ship goods through an intermediary country like Canada (duties are based on Country of Origin, not the last transit point)
The most important thing you can do is to determine if you will have any products impacted by the new duties and determine if your pricing should be raised to reflect the new tariffs.
Additionally, the United States does allow up to $800/day of goods to be imported without paying any duty which you can use to your advantage. Finally, plan your inventory diligently. Ordering 12 months' worth of inventory is probably not a great idea given the fluidness of things and the fact a trade deal could be reached at any time.
What you should not do is look at deliberately misclassifying your items to avoid duties. What many people do not realize is that your shipments are not fully 'liquidated' until 12 months after clearance into the United States. This means that your shipments can be reviewed for up to 12 months after clearance to assess whether they have had the correct HS Code applied (you know that bond you pay for when importing goods into the United States? This is to pay for your duties in the event you are re-assessed and can't afford to pay up). You can be sure that post-clearance audits of shipments will increase significantly in the future.
Additionally, first importing your goods into another country like Canada will not avoid the tariffs as duties are based on the original country of origin.

Predictions for the Future
As polarizing as Donald Trump is, "getting tough" on China is one issue he has relatively bipartisan support on. As Elizabeth Economy (a well-respected China commentator) from China File said "The trade war signifies far more than President Trump's desire to rebalance the bilateral trade deficit. It represents the culmination of decades of pent-up frustration within the United States over China's failure to make good on the promise of its 2001 WTO".
While the current impasse will likely be resolved, it's likely that strong resentment and disagreements on both sides of the Pacific will remain. Many have raised the possibility that even if the tariffs are removed in the short term, they may be reinstated at a later date. As China expert Michael Hirson said, "[Any] deal's implementation is likely to be rocky, with a real risk that the U.S. will reimpose tariffs in the next one-two year."

Conclusion
Importers find the announcement of a new round of duties extremely annoying, at the very least. We, the importers, are paying the costs in the short term and will be loathed to increase prices. But this burden will be passed on to the end-user. Prices will rise and consumers will be the real ones paying the cost in the long run.
The good news is, like most trade disputes, this is one that will likely be resolved eventually. But hopefully, a lasting resolution is reached sooner rather than later.