Temu has been one of the most talked-about e-commerce marketplaces in recent memory thanks to the Superbowl Ad they aired.
Temu (pronounced tee-moo) is a huge e-commerce company in China (similar to TaoBao for those familiar with Chinese e-commerce giants) with over 900 million users that came to the shores of North America in late 2022. Essentially though, Temu is a marketplace where Chinese-based suppliers sell goods direct to consumers which sounds an awful lot like Wish.com and even Amazon.com (more on that later). In this article, we'll take a look at how Temu is different (and isn't different) from Wish, Aliexpress, and Amazon.
What Exactly Is Temu?
Temu wants you to believe that they're a Boston-based company founded in 2022. Let's be sincere here though—TEMU is 100% a Chinese-based company that has a US-based entity.
The tagline is "Shop like a billionaire without being one" or, in other words, quality goods at affordable prices, which is basically the slogan of every other low-end mass retailer on the planet. How do they offer such cheap prices? By allowing Chinese vendors to sell directly to customers.
Temu vs. Wish.com vs. Amazon
Let's start off by giving a high-level overview of the differences between Temu, Wish.com, and Amazon in the table below.
| | Temu | Wish.com | Amazon |
| --- | --- | --- | --- |
| Free Shipping? | Yes over $20 (currently promotional) | No | Yes over $35 (or free with Prime) |
| Shipping Location | Mostly China | Mostly China | Mostly USA |
| Percentage Chinese Vendors | 95%+ | 95%+ | 60%+ |
| Shipping Time | ~7 to 20 business days+ | ~7 to 20 business days+ | ~1 to 5 business days |
| Who Ships? | Seller | Seller | Mostly fulfilled by Amazon (FBA) |
| Returns Window | 90 days | 30 days | 30 days |
| Free Returns? | Yes – free return shipping | No – buyer pays for return shipping | No – buyer pays for return shipping |
| Headquarters | China | USA (San Francisco) | USA (Seattle) |
| Year Entered U.S. | 2022 | 2013 | 1994 |
| Marketplace or Retailer? | Marketplace | Marketplace | Marketplace & Retailer |
How Is Temu Different from Wish.com?
Let's start by discussing the differences between Temu and Wish.com as they are fairly similar.
Many people will be familiar with Wish.com—a company that offers low prices by (you guessed it) allowing Chinese vendors to sell directly to consumers. Both Temu and Wish.com are marketplaces. What does that mean? A marketplace is where other sellers sell their goods and the actual company (e.g., Wish.com or Temu) doesn't actually sell any goods themselves. eBay is 100% a marketplace while Amazon is a hybrid of these two (more on this later).
While both Temu and Wish cater to Chinese sellers, one of the bigger differences between Wish.com and Temu though is the origin of each company. Wish.com was founded by former Google engineers with backing from many American VCs (including Jerry Yang) and is headquartered in San Francisco. In comparison, Temu is, for all intents and purposes, a purely Chinese company.
Country of origin aside, Wish.com and Temu both allow Chinese vendors to sell directly to American and Canadian consumers. Both offer free shipping and extremely low prices. However, where Temu separates itself from Wish.com is in shipping and returns.
Temu currently offers free shipping (meaning vendors bake it into the item price) while Wish.com bills separately for it. Wish.com's free shipping is currently advertised as a limited promotion, but it will remain to be seen if it becomes permanent and a part of their business model.
Temu also offers free returns for 90 days while Wish.com only offers it for 30 days, and the buyer must pay for return shipping.
It's also worth noting the overall look and feel of Temu versus Wish. Temu feels very much like a traditional Chinese e-commerce marketplace. See the comparison below between Temu and TaoBao.com (the largest e-commerce company in China).
Contrast this with Wish.com, which has a more simple and more minimalistic design and, arguably, more familiar, to American consumers. As an e-commerce entrepreneur, I can say that Wish.com's products have been Amazon-ified and eBay-ified: products on white backgrounds without a lot of marketing gimmicks (i.e., overselling).
How Is Temu Different From Amazon?
While it's hard to see many differences between Wish and Temu, the differences between Temu and Amazon are a bit starker. However, there are still a lot of similarities.
The thing that most people will think is the biggest difference actually isn't that different at all: the number of Chinese sellers. Most people think of Amazon as being an American company with mostly American sellers but, in fact, Amazon is made up of nearly 65% China or Hong Kong-based sellers.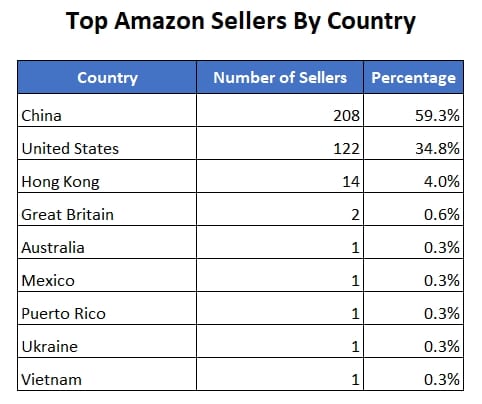 The three biggest differences between Temu and Amazon are 1) the fact that they're both marketplaces, 2) shipping times, and 3) prices.
Temu and Wish are both purely marketplaces, meaning they don't actually sell any of their products. Amazon, on the other hand, is both a marketplace and a retailer, meaning they resell other products (as well as their own private label brands). What this means is that you are very unlikely to find big household names like Apple or Nike on Temu or Wish (and if you do, they're likely counterfeit) whereas Amazon does resell these items.
The other big difference between Temu and Amazon is actually fulfillment and how items are shipped. While most items from Temu (and Wish for that matter) are shipped from China and with relatively slow methods, items from Amazon are mostly shipped from the United States via Amazon's FBA program with shipping speeds being significantly faster.
In terms of returns, Temu has a slightly better return policy by allowing 90-day returns with free return shipping. Amazon offers 30-day returns, and buyers pay for return shipping unless an item/order has a problem (or unless customers lie about an item being defective, which a large percentage do).
Pricing is the biggest difference between Temu and Amazon. Temu and Wish are comparably cheaper for everyday household items. We looked up the prices for a dryer cleaner on the three sites. It's $2.78, $4, and $6.90 for Temu, Wish, and Amazon, respectively.
The lower prices on Temu and Wish come at a price though. And that price difference is evident on shipping times. Amazon is typically weeks quicker than both Temu and Wish.
Conclusion
Temu is currently taking North America by storm and has consistently been one of the most downloaded apps in the App Store. For all intents and purposes, the differences between Temu and Wish are fairly negligible with Temu currently offering, on average, lower prices than Wish. It remains to be seen if this will continue in the long term.
The differences between Temu and Amazon are more drastic. Amazon is typically higher priced on commodity items but has quicker shipping and a wider selection of big brands.
Do you think Temu is here to stay? Or do you think it will fizzle out eventually? Let me know in the comments section below.